Rev. Edward Martin Jr.

, Pastor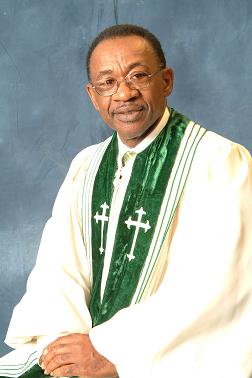 Pastor Martin is the faithful and loving husband of First Lady, Mrs. Asie L. Martin for 42 years. Together, they are the proud parents of five sons: Anthony, Rodney, Nathan (Tashia), Wendell (Sharralyn), and Michael; and the grandparents of seven, Sabrina, Elijah, Ethan, Avalyn, Emmanuel, Avery and Austin.

Rev. Edward Martin Jr. began ministry at the Mt. Ebal Missionary Baptist Church of Lockport, IL serving as a deacon under the leadership of Pastor Theodore Pinnick. It was there he was called into the gospel ministry and began preaching in 1975.

In 1982, after years of preaching and traveling extensively evangelizing, he accepted the call to pastor the St. Paul Missionary Baptist Church of Joliet, IL. Since that time, countless numbers of souls have been saved as well as lives changed by the Word of God.

Under Pastor Martin's leadership, many have accepted the call to become ministers: Rev. David Range, Rev. Bennie Yarbough, Rev. Genevieve Brown, Rev. Steve Evans, Min. Rodney Martin, Evangelist Dorothy Yates, Rev. Cliff Harris, Min. Wendell Martin, Min. Ronald Amos, Evangelist LaVada Humphrey, Evangelist Marilyn Perry, Prophetess Victoria Whitehead and Min. Ted Whitehead. Prophetess Sharon Caesar and Min. Myra Lesley

Five more ministers went on to become pastors, Rev. Herbert Brooks, Rev. Lonnie Posley, Rev. Gary Williams, the late Rev. Joseph Wright and Rev. Deddrick Perry. Rev. Bennie Yarbough was appointed First Assistant to the Pastor.

Pastor Martin has served as Chairman of the Lebanon District Scholarship for 6 years; Lebanon District First Vice Moderator for 2 years before being appointed as the Lebanon District Moderator for 4 years. Currently he is serving in the capacity of Advisor for Lebanon District Moderator.

Anointed and appointed, Reverend Edward Martin Jr. has definitely been called for such a time as this!

Where of I was made a minister, according to the gift of the grace of God given unto me by the effectual working of his power. Unto me, who am less than the least of all saints, is this grace given, that I should preach among the Gentiles the unsearchable riches of Christ; Ephesians 3:7-8 KJV